by gipsy on Aug.14, 2009, under Arcade, Gigantor
Yeah, I know I seem to be unable to finish one project before starting the next one 🙂
Nevertheless I did it again. Since I bought together with a friend about 40 original arcade PCBs, I thought I'd need something to put them inside.
First I wanted to use one of my existing cabinets for this, but soon I realized I'd need something special because of 4 different connection systems (5 if you also count the MAME PC), portrait and landscape monitor setting and different controls layout and other ideas.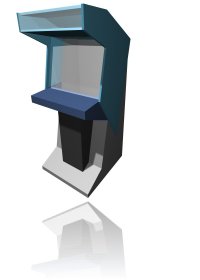 So I was surfing the interwebs to get ideas for a cabinet design and I stumbled over the austrian "
Gigant
" System.
I really liked the "monumental" design of this case, but I was missing some of the more traditional elements, so I fired up my trusty
ARCHline
and modelled my own case.
It's fairly big so a midsized monitor can be turned from portrait to landscape inside the case (I plan to make it motorized 🙂 )
Contrary to the rendering I've changed the color scheme. While blue is my favorite color I decided to go with some kind of purple for the base and a nice grey for the top.
Some first work is already done on the case:
Leave a Comment
:new, work in progress
more...